September Newsletter
Your Home - Air Quality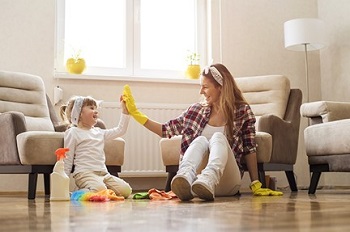 We tend to think of air pollution as something outside -- smog, ozone, or haze hanging in the air, especially in summer. But the truth is, the air inside homes, offices, and other buildings can be more polluted than the air outside. The air inside your home may be polluted by lead (in house dust), formaldehyde, fire-retardants, radon, even volatile chemicals from fragrances used in conventional cleaners. Some pollutants are tracked into the home. Some arrive via a new mattress or furniture, carpet cleaners, or a coat of paint on the walls.

1. Keep Your Floors Fresh.
Suck it up. Chemicals and allergens can accumulate in household dust for decades. By using a vacuum with a HEPA filter, you can reduce concentrations of lead in your home. You can also get rid of other toxins, like brominated fire-retardant chemicals (PBDEs), as well as allergens like pollen, pet dander, and dust mites. Using a vacuum cleaner that has strong suction, rotating brushes, and a HEPA filter ensures that dust and dirt won't get blown back out in the exhaust. In high-traffic areas, vacuum the same spot several times. Don't forget walls, carpet edges, and upholstered furniture where dust accumulates. For best results, vacuum two or more times each week and wash out your filter regularly.
Mop it up. Mopping picks up the dust that vacuuming leaves behind. You can skip the soaps and cleaners and just use plain water to capture any lingering dust or allergens. New microfiber mops (and dust cloths) reportedly capture more dust and dirt than traditional fibers and don't require any cleaning solutions whatsoever.
Keep it out. Put a large floor mat at every door. People track in all sorts of chemicals via the dirt on their shoes. A doormat reduces the amount of dirt, pesticides, and other pollutants from getting into your home. If the mat is big enough, even those who don't wipe their shoes will leave most pollutants on the mat -- not the floors in your home.

2. Keep a Healthy Level of Humidity. Dust mites and mold love moisture. Keeping humidity around 30%-50% helps keep them and other allergens under control. A dehumidifier (and air conditioner during summer months) helps reduce moisture in indoor air and effectively controls allergens, Lang says. An air conditioner also reduces indoor pollen count -- another plus for allergy-sufferers.

More tips for dehumidifying your home:
- Use an exhaust fan or crack open a window when cooking, running the dishwasher, or bathing.
- Don't overwater houseplants.
- Vent the clothes dryer to the outside.
- Fix leaky plumbing to prevent moisture-loving mold.
- Empty drip pans in your window air conditioner and dehumidifier.

3. Test for Radon. Whether you have a new or old home, you could have a radon problem. This colorless, odorless gas significantly raises the risk of lung cancer. Radon is the second leading cause of lung cancer in the U.S. today. If you smoke and your home has high radon levels, your risk of lung cancer is especially high. Radon is a radioactive gas. It comes from the natural decay of uranium found in nearly all soils. It typically moves up through the ground and into your home through cracks and holes in the foundation. Drafty homes, airtight homes, homes with or without a basement -- any home can potentially have a radon problem.

4. Smell Good Naturally. You may associate that lemony or piney scent with a clean kitchen or clean clothes. But synthetic fragrances in laundry products and air fresheners emit dozens of different chemicals into the air. You won't find their names on the product labels. Conventional laundry detergents, fabric softeners, dryer sheets, and air fresheners in solid, spray, and oil form may all emit such gasses.
Finances - Medicare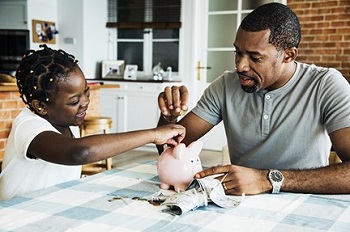 Just as most older Americans rely on Social Security for a significant chunk of their retirement income, most also rely on Medicare for healthcare coverage in their golden years. (Indeed, more than 50 million Americans are enrolled in it.) Medicare isn't something you just receive with no decisions needed, though. The more you know about it, and the savvier decisions you make, the better off you'll be! This month, we'll be giving you the rundown on medicare (if you do not know already, or just need to know more), and more of what to expect when enrolling!

When to Enroll
A key thing to know about Medicare is when to enroll -- and not just because you don't want to miss out on any period of coverage. If you're late enrolling in Medicare, you could end up being charged more expensive premiums for the rest of your life!

Here's the scoop: You're eligible for Medicare at age 65, and you can sign up anytime within the three months leading up to your 65th birthday, during the month of your birthday, or within the three months that follow. If you fail to enroll during this seven-month period, you can always enroll during the "general enrollment period," which is from January 1 through March 31 of each year -- but your part B premiums -- which cover medical services, but not hospital services -- can rise by 10% for each year that you were eligible for Medicare but didn't enroll. Yikes!

Fortunately, if you're already receiving Social Security benefits when you turn 65, you'll likely be automatically enrolled in Medicare. If you're still working, with employer-provided healthcare coverage at age 65, or are serving as a volunteer abroad, you can delay enrolling in Medicare without penalty.

What's Covered -- and What Isn't
Another key thing to know about Medicare is just what is and isn't covered by it. Most services and products that are deemed "medically necessary" are covered. Some are free to enrollees, and others will have you paying a deductible or 20% of the cost.

Annual wellness checkups are free, as are many important screenings –- such as mammograms and Pap tests, along with screenings for heart disease, colorectal cancer, prostate cancer, depression, glaucoma, hepatitis C, alcohol misuse, HIV, STDs, diabetes, and osteoporosis. Other covered benefits include ambulance services, artificial limbs, CPAP machines, home health services, hospice care, lab tests, mental healthcare, physical therapy, skilled nursing facility care, smoking cessation counseling, and even some organ transplants. (Note that some of these are only covered in certain circumstances.)

What's not covered? Medicare generally won't cover basic home health help, such as assistance with bathing or toileting -- unless the patient is also receiving skilled nursing care. Alternative medicines or treatments (such as acupuncture, acupressure, homeopathy, or chiropractic care) are generally not covered.

Care you receive while outside the U.S. is not covered, either. When it comes to Part D drug coverage, don't expect coverage for weight-loss pills, erectile dysfunction treatments, fertility drugs, or over-the-counter medicines, among other things.

It's Not Free Medicare can be very inexpensive for some people, but it isn't free.

Part A is free for most people, but it carries a deductible ($1,288 for 2016) -- and it's not a simple annual deductible, either. Instead, it applies per "benefit period," with a benefit period beginning when you are admitted to a hospital or a skilled nursing facility and ending once you've not received inpatient care for 60 consecutive days. Thus, if you are in and out of hospitals frequently, you may have to pay that deductible several times in a single year.

Part B, meanwhile, charges monthly premiums -- which are $104.90 for most folks in 2016 -- and features an annual $166 deductible. After you pay the deductible, you'll generally be paying 20% of the Medicare-approved cost of various products and services. Premiums and costs for Parts C and D vary widely. As of 2010, the average out-of-pocket spending on Medicare for beneficiaries was $4,734 for premiums and services.

You Can Opt for a Medicare Advantage Plan Finally, know that if you want Medicare coverage, you don't have to sign up for the traditional government-provided original Medicare coverage. Private insurance companies such as Blue Cross Blue Shield and UnitedHealth Group now offer "Medicare Advantage" plans, which are sometimes referred to as "Part C." They debuted in 1995, and while administered by private insurers, they're still regulated by the U.S. government. Each must offer at least as much coverage as what is now called "original Medicare" (i.e., the benefits you'll find in Part A and Part B that respectively cover hospital and medical services).

In order to attract customers, many offer broader coverage, such as the vision and/or dental care that original Medicare doesn't provide. Most include prescription drug coverage, too. While original Medicare doesn't cover healthcare provided outside the U.S., some Medicare Advantage plans do. While original Medicare will often have you footing 20% of many bills, a Medicare Advantage plan might charge you a low copay per doctor visit or service.

Medicare Advantage plans also have out-of-pocket limits, beyond which the plan will pick up all your healthcare costs for the year. Original Medicare lets you see any healthcare provider who accepts Medicare, but Medicare Advantage plans will typically limit you to a network of doctors -- though these networks sometimes can be very big.

If you think you might be interested in a Medicare Advantage plan, see which ones are offered in your area, and learn exactly what they offer and cost. Know, too, that choosing between original Medicare and a Medicare Advantage plan isn't a permanent decision. At least once a year, you will be able to switch between them. Having these Medicare basics under your belt is likely to save you money -- and it may keep you healthier, too.

This article is for information, illustrative and entertainment purposes only and does not purport to show actual results. It is not, and should not be regarded as investment advice or as a recommendation regarding any particular investment action.
Personal Interest - Bullet Journaling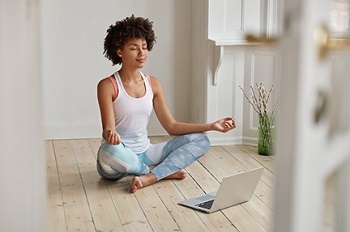 Do you find yourself overly stressed due to the fact you can't seem to organize even the littlest things in your life? Fear not, we have found one of the best ideas for such organizing needs, called a bullet journal! It's like a journal, but with a nice twist. Keep reading to learn more!

What is a Bullet Journal?
Okay, so first things first - what is a bullet journal? It can be anything you want it to be! It traditionally began as a method of note-taking and traditional journaling, and has since grown into a creative outlet that can be home to whatever your desire. It can be a planner, journal, and sketchbook that perfectly satisfies any need you have. There isn't a journal or planner on the market that can do that besides the bullet journal. Below, we have dove in to find you the best ways to help get your bullet journaling started!

Step 1: Adjust Your Mindset
Your first notebook will be your learning notebook. Like any productivity method, it will take time to find a bullet journaling flow and structure that works for you. Don't prematurely optimize and go all out with a handmade leather journal. That's too much pressure. Any creative endeavor involves letting go of perfection. Bullet journaling is no different. Make a mess.

Step 2: Get a Journal and Writing Utensils
Start with an inexpensive notebook --  one you like but feel okay making mistakes in or throwing away if it doesn't work out. Opt for a journal with blank pages (lined or unlined, your choice) instead of one with pre existing sections, so you can customize it. As for writing tools, start with a pencil so you can erase easily. But if you're a die-hard ballpoint pen person or gel pen lover, you use what's best for you.

Step 3: Start an Index Page
The index is the backbone of your BuJo (Bullet Journal) system. Think of it like the table of contents in a book. This will be your reference key to find certain sections or pages in your bullet journal.

Step 4: Create Logs
Logs are staples of the bullet journal system. Essentially, these are places where you can braindump tasks and projects you're currently working on. It's also your storehouse for future goals.

In general, there are three types of logs:
- A Future Log helps you keep track of items that aren't yet on your immediate radar. In Getting Things Done (GTD) terms, this is similar to a someday/maybe list.
- Monthly Logs include things like calendars and categorized goal lists for the next 30 days.
- Daily Logs may includes entries of to-dos, meetings, and reminders.

Simplicity is a top tenet of BuJo, so keep your entries brief. For instance, "Write draft of Chapter 1" or "Call Amy re: birthday plans" is more than sufficient, as long as you can interpret the shorthand.

Step 5: Pick Signifiers
Many people use bullets for lists of tasks, circles for events, and dashes for notes. Stars commonly denote high-priority items. Of course, this is all customizable, and over time you'll arrive at a system of symbols that's unique to you. You'll track personal signifiers on a reference page.

Step 6: Document Items with Collections
Collections are running lists and anything you want to remember for later:
- Books you want to read
- Movies you want to watch
- Friends you want to reconnect with
- Things you're grateful for
- Blog topics
- Self-care ideas

And lots more. These are typically kept toward the back of your notebook since they don't change very often.

Step 7: Make Time for Itv Schedule time to update your journal. After all, no productivity method works unless you put effort into it. Cross off items on your daily and monthly logs as you complete them. Write page numbers on the bottom of each page, and update your Index. Many BuJo enthusiasts do a monthly or quarterly review, taking time to reflect on what they accomplished, their future goals, and to transfer items from one log to the next.

Step 8: Get Better, Gradually
Over time, you'll home in on a bullet journaling process that fits your needs and preferences. Once you get your standard page formats down, you can move on to optimizing your process in other ways. Maybe you can work on improving your handwriting. Or add washi tape to make finding frequently flipped-to pages easier. There are lots of helpful online resources created by the innovative BuJo community.

Links to external websites are provided by VanKeef Financial for your convenience.
VanKeef Financial does not endorse these sites and assumes no liability with respect to the information contained therein. You should review the linked site's privacy and security policies as they may be different from that of VanKeef Financial .




Important Dates:
September 3 - Labor Day
September 11 - Patriot Day
September 17 - Constitution Day & Citizenship Day
September 21 - National POW/MIA Recognition Day



When you go to buy, use your eyes, not your ears.
- Czech Proverb